About Delikon Conduit
Company Information
On-Line Show Room
Flexible Conduit & Hose
Delikon Tubing Co., Ltd.
Welcome to the Internet home of Delikon, Specialists in flexible conduits & fittings.
flexible conduit, liquid tight




Liquid Tight Conduit
Aluminum Connector
NEW Unique CONE design
G, NPT, Metric & PG Threads
IP67 Liquid Tight Connector


Delikon, a top Chinese manufacturer and exporter of electrical flexible conduits, liquid tight conduit, Heavy Series over braided flexible conduit, conduit fittings, and flexible hose for various applications, our business philosophy has always been based on quality products, innovative solutions, and service beyond our customers expectations. You will find a flexible solution from Delikon.

Heavy Series Over Braided Flexible Conduit and Fittings for automotive and metals industry automation wiring


FLEXIBLE OVERBRAIDING CONDUIT
Braided Flexible Conduit
Flexible Conduit for
automotive industry and
steel mill cable protection
EMI and RFI shielding
(Braided flexible metal conduit, water proof, EMC Screening)
Flexible Metal Conduit for Heavy Mechanical Stress



Heavy Series Over Braided Flexible Conduit and Fittings for steel mill retrofit.
Heavy flexible sheath
Braided flexible conduits protect cables on machining, welding or heavy plant.
flexible metal conduit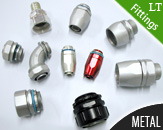 Liquid Tight Connector
Connecting flexible conduit
to electric box or enclosure
LT Connectors offer excellent pull-off characteristics.
high performance hose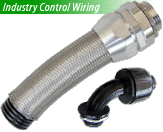 Corrugated Nylon Conduit
& Fittings for industry
Control & Robot wiring
Screen Flex EMC Shielding
Over Braided Flexible Conduit

Delikon EMI Shielding Heavy Series Over Braided Flexible Conduit and Fittings for Automation cables



Quality Over Braided
Flexible Conduit System


Heavy Series Over Braided Flexible Conduit for protection of bank vault data and electric cable
Metallic Liquidtight Conduit
Flexible, sleek, with increased IP ratings, smooth pvc sheath. Metal Liquid Tight Conduit and fittings for railway signal and power cables protection



Flexible Liquid tight conduit is suitable for use in a variety of applications from general purpose wiring in wet or damp locations, to raised computer room floors and site lighting jobs. Interlocked Liquid tight conduit is most suitable for industry machine. liquidtight conduit



VJC Flexible Metal Conduit
for high-flex installations
Delikon Flexible Conduit and Fittings Systems Set Cable Protection Standards for Digital Factory



Interlocked PVC Coated Flexible Metal Conduit for telecom and fiber optic cable



Protection for fibre optics, sensor cords or electric cords. Strip wound small bore flexible metallic conduit for cables armoring. (AT) CCTV wiring flexible conduit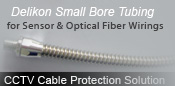 Over Braided Flexible Conduit and Liquid Tight Conduit for protection of Offshore, Heavy industry and Petrochemical industry Electrical Wirings. Electromagnetic Shielding Over Braided Flexible Conduit.
Oil Refinery Cable Management Flexible Conduit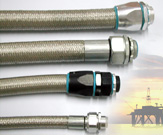 Braided Flexible Conduit and conduit fittings systems with emphasis on safety, security, and longevity.
Delikon Heavy Series Over Braided Flexible Conduit and Fittings are used on various types of machinery for protecting cables and hoses



Steel mill wiring heavy series over braided flexible conduit
Heavy Sheath Conduit Fittings

Industry heavy series over braided flexible conduit and connector is resistant to hot metal particles and suitable for metal smelting plant and CNC and EDM machine electric cables protection.



To help minimise downtime, we offer heavy series over braided flexible conduit and braided conduit fittings for protecting automation and process control cable
Delikon Heavy Series Over Braided Flexible Conduit and Fittings for Automation Process control and power systems cables protection solutions



Delikon Oil Resistant Coolant Resistant Over Braided Flexible Rubber Conduit and Metal Fittings protect Machine Tool Wire MTW against oil, coolant, and protection against Swarf or Chip.

Industry Cable Management



Metal Industry Wiring
Flexible Conduit System
Delikon Heavy Series Over Braided Flexible Conduit and Fittings protect metal industry automation cables




Heavy Series Flexible Sheath
Petrochemical Industry Wiring
Braided Flexible Conduit
High Quality Flexible Conduit

Product Families Flexible solutions for electric cables management


Metal Over Braided Flexible Conduit EMI shielding
Braided Liquid Tight Conduit with Nylon Sealing Cord(YF-705)
Braided InterLocked Metal Liquid Tight Conduit (SM-701)
Braided Waterproof Metal Flexible Conduit (YF-704)
Braided Corrugated Nylon Flexible Conduit (PBF) flexible conduit
Braided Oil Resistant Flexible Rubber Conduit (WNS / ORC)
Heavy Series Over Braided Flexible Metal Conduit (SM70001)
Braided Small Bore Flexible Metal Conduit (AT-SL-BRAIDED)
Triple Braided Flexible Stainless Steel Conduit (SC)
for combustion equipment power and data cable protection
Braided Flexible Conduit & Fittings

for industrial wiring

G(PF), NPT, Metric & PG Threads
Male or Female threads

Flexible Conduit & EMT Fittings / Accessories
Connectors & Fittings (Flexible metallic conduit, Liquid Tight)
Liquid Tight Connector with internal threads (Female Fittings)
Aluminum Liquidtight Connectors (Fixed or Swivel Connector)
Stainless Steel Liquid Tight Connector

(

corrosion resistance

)
Stainless Steel Liquid Tight Conduit, Stainless Steel Liquid Tight connector and Conduit Fittings for corrosive environments
Heavy Series Over Braided Flexible Conduit Fittings
Conduit Adapter Backshell (Circular Connector Backshell)
Delikon Heavy Series Over Braided Flexible Conduit with Military Circular Connector Backshells are used to protect Computer Numerical Control CNC machines cable, and milling machine cables. The Flexible Conduit system can be designed and built to customers requirements
EMT Conduit Fittings (EMT connectors, couplings, set screw)
Flexible Conduit Assemblies (with connectors pre-installed)
Heavy Sheath Over Braided Flexible Conduit and Fittings
Swage Connectors & Fittings For Braided Flexible Conduit


G(PF), NPT, Metric & PG

Non-metallic Liquid Tight Fittings, LT Connector
Non-metallic Connector for Nylon conduit (PF, PG, Metric )

Non-metallic Liquid Tight Connector

(NPT Threads)
Suitable for non-metallic conduit, corrugated nylon conduit, PVC coated flexible metal conduit & liquid tight conduit. Corrugated Nylon Flexible Conduit, Fittings For industry robot cable

Delikon Industry 4.0 Flexible Conduit and Fittings

Delikon heavy series over braided flexible conduit and fittings are specifically designed to protect Industry 4.0 power, control and instrumentation cable. Delikon Heavy Series Over Braided Flexible conduit and Fittings provide additional mechanical protection, hot metal splash resistance, as well as EMI shielding to automotive industry automation cables, metal industry and steel mill cables.

Liquid Tight Conduit for Construction Project
Pliable Metal Conduit PVC Covered, Wiring Harness Conduit
Heavy Series Over Braided Metal Liquid Tight Conduit
Nowadays Delikon Liquid Tight Conduit is replacing pliable type in most applications: Interlocked liquid tight conduit is suitable for industry, pharmaceutical equipment and telecom. Interlocked liquid tight conduit has higher tensile strength.

Delikon Heavy Series Over Braided Flexible Conduit and Heavy Series Fittings

for Continuous Casting Machine automation cable protection solutions

Delikon is the market leader in manufacturing heavy series over braided flexible conduit and fittings for carbon and stainless steels Continuous Casting Machine automation cable protection.

With our long experience in supplying Heavy Series Over Braided Flexible Conduit as well as heavy series fittings, we can produce braided flexible conduits and fittings in the widest range available on the market, and with the best quality ever. Delikon Heavy Series Over Braided Flexible Conduit and Fittings protect rolling mills motor and Drives and Control system cables.

Professional Electrical Wiring Protection Solutions.

---

Delikon, TOP manufacturer of flexible conduits and fittings.
Braided Flexible LiquidTight Metal Conduits & Braided Flexible Steel Conduits

---

Braided Flexible Metal Conduit System is widely used to counter mechanical stress and is highly flexible, and it is resistant against tensile stresses and transverse pressure. Braided flexible conduit also offers excellent protection against hot metal particles, and immunity from electromagnetic interference. Over Braided flexible steel conduits are most suitable for use in Hazardous Locations, industrial environments and high temperatures wiring applications. A range of high quality fittings and connectors are specifically designed to maintain the flexible braided conduit system integrity including fixed and swivel fittings, straights, 90 and 45 degrees. Heavy Series

Delikon Military Circular Connector Backshell,Conduit Adapter is designed to connect a cylindrical connector to flexible conduit. Together with Delikon EMI Shielding Heavy Series Over Braided Flexible Conduit and Heavy Series Connector, this over braided flexible conduit assembly provides reliable protection to the cables connecting to Military Connector and is widely used for the automotive, robotics, machine tool, steel mill and welding industries, as well as industry automation cable protection and commercial applications from heavy equipment to ECG monitoring cables.

Braided-shield flexible conduit, SCREEN FLEX: Clean data transmission in a noisy environment is an ever-increasing requirement on today crowded factory floors. Variable-speed motors operating near data cables are a common occurrence - so is Radio Frequency interference. Delikon braided-shield flexible conduit provides excellent Radio Frequency, as well as mechanical protection to the wirings and cables, resulting in improved data transmission. Heavy series over braided interlocked metal Liquid tight Conduit and fittings provides excellent mechanical protection and EMC shielding to CNC cables.

Over Braided Flexible Conduit & Fittings For Industry Automation

Delikon Over Braided Flexible Conduit & Fittings deliver reliable protections for industry automation cables. See our whole range of cable sheath Heavy Series Flexible Conduits to find the right solution for your demanding wiring projects.
Delikon Heavy Series Over Braided Flexible Conduit & Flexible Conduit Fittings protect CNC EDM Machine Data and Power Cable and Fluid Line.


Braided Flexible Steel Conduit, Connector for Rolling Mill Cables Protection

Over Braided Flexible Conduit system specially designed for cables protections in steel mills, glass works and electric furnaces, resists hot metal splashes. Designed for heavy industrial environments, the Braided Flexible Conduit systems are overbraided with stainless steel for added protection, without restricting their flexibility. The braided flexible conduits offer high flexibility and high fatigue life. Heavy series over braided flexible conduit systems also protect cables from hot metal slag and provide standard EMI screening for the cables carried within the system. Most suitable for steel mill cable conduit.

Delikon Heavy Series Over Braided Flexible Conduit and Fittings protect electrical and automation equipment cables, control systems, drive systems, and motors cables of steel making and iron making plant. Delikon EMI Shielding Over Braided Flexible Conduit and Fittings Systems help steel plant upgrading, equipment refurbishment and repair.

Delikon Heavy Series Over Braided Flexible Conduit and Fittings are designed to protect CNC Control cables, Industry Automation PLC wirings, Servo and Spindle Motors cables, MPG Cables, and Drive Command Cables. Delikon Heavy Series Flexible Connectors simplify design, assembly and maintenance for CNC machining center and other modular machinery.
Delikon Heavy Series Over Braided Flexible Conduit and Fittings protect ignition wiring and control wiring of industry Engine and Generator.


Delikon stainless steel liquid tight connector and conduit resist corrosion and oxidation, for application in oil and gas industries.

Delikon Liquid Tight Stainless Steel Conduit, Liquid Tight Conduit Stainless Steel Connector for Food, Pharmaceutical, Brewing, Dairy industries.
Delikon manufactures stainless steel flexible conduit, water proof stainless steel flexible conduit, stainless steel liquid tight conduit, as well as stainless steel liquid tight connector for the paper and pulp industry cable protection.

Heavy Series Conduit Fittings for heavy flexible conduit sheath, heavy series over braided flexible conduit systems: Straight Fittings, Angle Fittings, with G, Metric, ISO228-1, NPT or PG threads.Combined with this line of high specification conduit fittings, Delikon Heavy Series Over Braided Flexible Conduit systems offer a high level of protection for cables in the demanding environments.

Delikon heavy series flexible sheath flexible conduit and conduit fittings are ideal for protecting crucial communication and power cables in bank, airport and train station

Delikon produces a whole range of MS Plug Adapters for connecting a military connector (MS Plug) or circular connector to a flexible conduit for industry automation cable management. In particular , the Over Braided Flexible Conduit with MS Adapter is most suitable for CNC machines wiring harness, industry control and automation cables protection. Over Braided Flexible Conduit, Fittings.
Delikon Heavy Series Over Braided Flexible Conduit with MS Adapter for Servo Motor Cable.

Heavy Series Over braided flexible metal conduit & fittings systems are ideal for protecting electrical and data cables in high temperature industrial applications with sparks, weld slag or hot swarf. Over braided flexible metal conduit is also suitable for EMC SHIELDING of cables. Delikon Over Braided Flexible Conduit has been designed to protect cables from EMI.

Heavy Series Over Braided Flexible Conduit and Braided Flexible Conduit Fittings for heavy industry automation electric cables protection.


Latest news

Over Braided Flexible Metal Conduit, Fittings

Over Braided Flexible Metal Conduit Resists hot metal splashes & abrasion. Heavy Series Over Braided Flexible Conduit Flexible Sheath

Braided Corrugated Nylon Flexible Conduit

Conduit for industry robotic applications
More Delikon News ...

Featured conduit products conduit

Flexible Metal Conduit for Heavy Mechanical Stress

Flexible S.S. conduit
Flexible metallic conduit, PVC covered

Flexible conduit and connectors assembly
for wiring harness

Liquidtight flexible metal conduit (LT)
for ship, train, subway or railroad cable protection liquidtight conduit

Delikon Heavy Series Over Braided Flexible Conduit and Fittings protect Continuous Casting Machine cable
Computer Blue metal liquid tight conduit with copper bonding wire for telecom and industry control wiring

Protection metal hose

Catalogs downloads
Wiring Accessories

Professional Electric
Cable Management Flexible Conduit & Conduit Fittings

Cable protection metal hoses and fittings perfect all round protection for electrical cables.

Grey PVC coated Liquidtight Flexible Steel Conduit is used extensively in the machine tools. >>>


Liquid Tight

Metallic Conduit IP67 rated is ideal for industry, railway signal and ship electric wirings.
Liquid Tight Conduit

Flexible metal Liquid Light Conduit is also widely used for electrical power plant transformer wirings. Liquid tight conduit is available up to 6" size
InterLocked Liquidtight

DELIKON quality metal liquid tight conduit fittings and liquid tight conduit for industry and commercial wiring.


Delikon outstanding metallic liquid tight conduit combines the benefits of durability,
chemical resistance, waterproof connection, ease of installation, and reduced friction.

Delikon Liquid Tight Conduit and fittings for railway or ship building cable management.
Delikon Quality Large Diameter Liquid Tight Conduit and Fittings.

Heavy Series Metal Fittings, Heavy Series Electrical Flexible Conduit for protecting industry control cables.
EMI Shielding Heavy Series Over Braided Flexible Conduit and fittings protect industry control, industry automation, drive system, sensor cable and PLC cables
In modernizing the main drives for the IRONMAKING AND STEELMAKING mills, Delikon Heavy Series Over Braided Flexible Conduit and Fittings protects automation cables.
Stainless steel liquid tight conduit and stainless steel liquid tight conduit fititngs are best for corrosive environment such as chemical industry cable harness, water treatment plant wiring. Delikon Stainless Steel Liquid Tight Conduit is built to last.
Delikon Stainless Steel Liquid Tight Connector for food processing industry
Delikon Liquid Tight Conduit & Connector for Port Equipment Cable Protection, providing reliable cable management solutions for all kinds of cargo handling equipments.
Extreme temperature Delikon Rubber Coated Metal Liquid Tight Conduit and Liquid Tight Conduit Fittings protect Agricultural and Industrial Equipment, Robotics and Automation Cables

Black Liquid Tight Flexible Conduit, Sleek, with increased IP ratings, flexible metallic Liquid Tight Conduit is ideal for environments with lots of water, oils and grease or coolant. Liquid Tight Connector